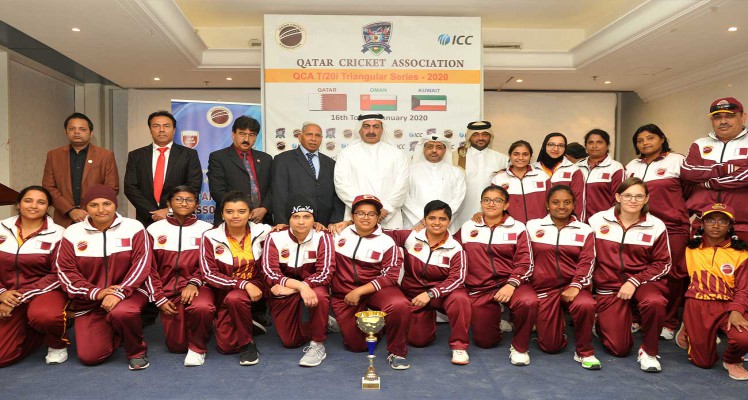 Hosts Qatar had a mixed day when they won one match and lost other in the QCA Women's T20I Triangular Tournament at the Asian Town Stadium, Industrial Area on Friday.
The Qatar Cricket Association (QCA), headed by Yousef Jeham Al-Kuwari, is hosting the event to provide exposure and opportunity to not only the local players but also that of the region.
With China withdrawing due to some technical issues, the hosts had to change the status of the four-nation event to the triangular series. There will be double round robin format and two top teams will play the final on January 21. Both the matches on the opening day were full of thrills and excitement as Oman got the better of Qatar by three wickets in the first and the home team edged Kuwait by a wicket off the penultimate ball in the second fixture.
In the inaugural match, Oman, asked to bat first, made 114 for three. Fiza hit a run-a-ball 34 with three boundaries. Sakshi struck two fours in her 31-ball 24 and Priyanka Edan chipped in with 22 not out in 21 deliveries.
Fiza and Priyanka were involved in an unbroken 39-run stand for the fourth wicket as well. Rochelle Sherlene Quyn, Shahreennawab and Nahan Arif shared three wickets. Qatar had a good start and reached 48 for one, but two wickets at this stage stalled their progress. Also three Qatar players got run out, which proved a big setback to their chase. Captain Aysha scored an unbeaten 27 with a four in 28 balls, while Shahreennawab got 18 in 34 balls and opener Saachi Dhadwal added 12 in 14 balls with two fours. Bhakti Shetty picked two wickets.
Qatar, chasing a challenging 116-run for victory in the second match of the day, stepped up the pace after being down three for 35 in six overs. Captain Aysha, who smashed four boundaries in 31, and Aleena Khan (25 with a four) collected 47 runs for the fourth wicket to provide the much-needed momentum. As a result, Qatar needed only four runs in the final over by Madeena Zubari. Off the first three balls, Trupti Kale (eight not out) and Sabah Nawab (one not out) got three runs. Then off the fifth delivery, Kale struck a boundary to seal the pulsating victory and keep Qatar on track for a place in the final. Earlier, Zeena Jilani got two fours in 24, Siobhan Lee added 21 and Priyada hit 18. Maryam made 10 not out. Rochelle and Nahan Arif shared four wickets.